Thai NGOs Speak Out Against Proposed Dam in Laos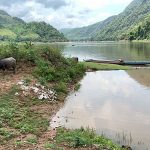 A new dam planned for construction on the Mekong River in Laos is causing great concern for environmental NGOs from Thailand, who say Laos' fifth big dam on the river will have adverse effects on fish and people in the region.
The Luangprabang hydropower project would be Laos' fifth large Mekong dam. The Lao government informed the Mekong River Commission (MRC) on July 31 that it submitted the project to undergo the six-month prior consultation process under the MRC's Procedures for Notification, Prior Consultation and Agreement (PNPCA).
 RFA's Lao Service
https://www.rfa.org/english/news/laos/laos-luang-prabang-dam-mekong-09232019161400.html