EU and UNICEF Donate Motorbikes and Computers To Lao MoES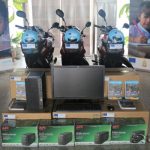 (KPL) As part of the Partnership to Strengthen the Education System (PSES), the European Union (EU) and UNICEF handed over to the Ministry of Education and Sports (MoES) equipment for a total value of US$ 121,000, including 40 motorbikes, 62 desktop computers and three laptops.
The handover ceremony was held at the MoES in Vientiane on Oct 3 between Mr Leo Faber, EU Ambassador to the Lao PDR, Mr Irfan Akhtar, Officer in Charge of Representative, UNICEF Lao PDR and Ms. Khanthaly Siriphongphanh, Vice Minister of Ministry of Education and Sports.
The supplies will be used in 40 priority districts, line departments and the Institute for Education Administration and Development (IFEAD).
 KPL News Desk
http://kpl.gov.la/En/Detail.aspx?id=48604