Provincial Official in Laos Wants to Cancel Concession for Chinese Coal Company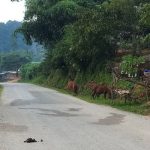 Officials for the local government in Laos' Houaphanh province say they want to cancel the survey contract of a Chinese coal company after learning that its operations in the province have caused hardship for villagers who have yet to see any compensation.
The company reportedly damaged eight hectares of rice fields, even causing a landslide as a result of digging survey tunnels.
An official from Houaphanh's mines and energy department told RFA's Lao Service Tuesday the concession should be canceled for environmental reasons.
 RFA's Lao Service
https://www.rfa.org/english/news/laos/laos-chinese-coal-survey-10022019170509.html