Laos Launches Online Registration for Covid-19 Vaccinations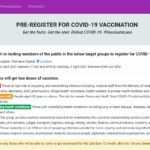 Laos has launched an online registration program for Covid-19 vaccinations aimed at priority groups. According to an announcement by the Centre of Information and Education for Health, a new round of Covid-19 vaccinations will take place from April 2 to 3 at Mittaphap Hospital as well as other hospitals in Vientiane Capital.
Those who are eligible may now register to be vaccinated online at the official websites http://vaccinatelaos.la or www.covid19.gov.la.
 Phayboune Thanabouasy