[Online conference]: PEOPLES DATA ON LAND, WHAT FOR?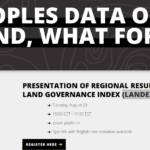 Description:
The International Land Coalition LAC in association with regional platforms will organize a presentation of the regional result of the land governance index (LANDEX).
The event also invites us to reflect on the challenges of the use and positioning of complementary (non-official) data. This discussion is highly relevant, given that data is a common language in decision-making scenarios, whose generation has conventionally been a task of governments and intergovernmental agencies. Even though increasingly, academy and civil society are generating complementary data that feed the debates on land decision-making.
Schedule/Time: Tuesday, Aug 23, 2022, 09:00 PM (ICT: Bangkok time).
Register >>> HERE
More information on the event >>> HERE