DATA-DRIVEN STORYTELLING CONTEST (Deadline extended to March 29th, 2021)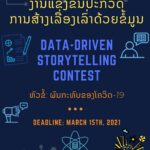 The purpose of this contest is to encourage professionals, researchers, students, particularly women and Indigenous Peoples to demonstrate the value of data through effective visual data storytelling, and to contribute to the open data community by increasing the accessibility of information on public services.
During this COVID-19 pandemic, Open Development Mekong (ODM) in collaboration with SPIDER Center invites participants to use one's data literacy and creativity to build a data-driven story featuring data on COVID-19 impacts from the ODI platforms and other relevant sources.
The Open Development Initiative (ODI) under the East-West Management Institute (EWMI) invites entries to this data-driven storytelling contest. Participants from all of the Lower Mekong countries, including Lao PDR, Cambodia, Myanmar, Thailand and Vietnam, are invited.
ODI and its Open Development network platforms make open data available on development issues, including about the current coronavirus pandemic and its impact on society, economy and the environment. The platform makes data and information available on a single website to increase the accessibility of public services for people in the Mekong region, especially for women and other marginalized groups.
Submission:
All entries must be submitted via email to opendev.laos@gmail.com along with complete name, contact number, and name of organization (if any), with the subject line: "Covid-19 Contest – [Participant's Name]" by March 29th, 2021 (local time). Please see the guidelines for submission below.
Guidelines for Submission:
Judging criteria:
The submission will be judged based on following criteria:
Story (Impact) (25%)

Visual form (Originality and creativity) (25%)

Information (Integrity) (25%)

Function (Usefulness) (25%)

Using data from ODI platforms (plus extra points)
Prizes:
Winner:

US$200 and certificate

1st Runner-up:

US$100 and certificate

2nd Runner-up:

US$50 and certificate

All winning stories will be published on the

ODI website

and highlighted on the ODM Medium blog.
Contest rules:
An entry can be from individuals or groups (not more than 3 persons). Each participant may submit up to 2 entries.

The submission shall be a combination of data story and visualization to inform about the impacts of COVID-19 in your country. An interactive data story is encouraged.

Data sources shall be from reliable open sources and must be referenced properly. Extra points will be given upon the use of data from the

ODI websites

(

ODV

,

ODL

,

ODC

,

ODT

,

ODMm

,

ODM

)

Language: The submission can be in either

Lao

or English.

ODM reserves the right to edit and publish the entries of the winners and the 2 runners-up on its website, publications, documents, or any other dissemination medium. ODM will attribute the author on its publication and media posts.

The work must not be published in any other platform prior to this competition. Data used in the submission must be open for re-publication (for non-commercial purposes).Participants will take full responsibility for any copyright issues relating to datasets which have not yet been published on ODM platforms, and/or the content of his/her work.
Timeline:
Story submission deadline:

March 29th, 2021

(23:00h, local time)

Winners announcement:

April 19th, 2021

(via email and/or website)
For additional details about the contest, including eligibility requirements, please send an email to opendev.laos@gmail.com.