Villagers in Laos Resist 50-year Land Concession to Thai Developer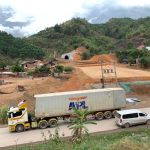 Residents of seven villages in Laos' Luang Namtha province are resisting a 7,000-hectare land concession granted to a Thai company that would force them to relocate.
The villagers are also concerned that the proposed industrial zones that would be developed on the site by Thailand's Amata Corporation would cause irreparable damage to the local environment.
A resident of Luang Namtha's Luang Namtha district, whose land falls within the concession, confirmed to RFA's Lao Service last week that the concession covers Houydam, Houay Hom, Namdengnuea, Namdengtai, and three other villages.
 RFA's Lao Service
https://www.rfa.org/english/news/laos/laos-thailand-concession-10012019165645.html