Lao Telecom tests 5G technology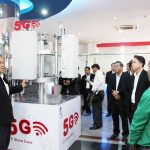 VIENTIANE (Vientiane Times/ANN) – Lao Telecommunications Public Company (Lao Telecom) has begun tests of the new 5G technology, the much-touted high-speed fifth generation communication network.
A test took place yesterday at the company's headquarters in Vientiane and was attended by Lao Telecom's board of directors and representatives from relevant sectors.
5G technology is smarter, faster and more efficient than 4G and better responds to users' needs.
 News Desk
http://annx.asianews.network/content/lao-telecom-tests-5g-technology-105838