Hundreds of southern schools closed after widespread flooding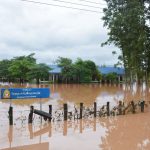 VIENTIANE (Vientiane Times/ANN) – Many schools in the nation's south have been closed temporarily following floods caused by Tropical Storm Podul which damaged infrastructure including school buildings.
A large number of students are still waiting to take their classes while local officials speed up efforts to repair affected school buildings and provide new educational materials.
Saravan is one of the hardest-hit provinces with a total of 194 schools in Saravan, Vapy and Khongxedon districts flooded from 2-6 September, the first week of the new school year across the country.
 Keoviengkhone Bounviseth
http://annx.asianews.network/content/hundreds-southern-schools-closed-after-widespread-flooding-103964