[Webinar]: Taking Data Back: Women's Sovereignty over Land Data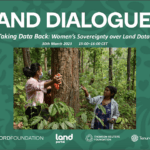 The theme for this year's International Women's Day is "DigitALL: Innovation and technology for gender equality" aiming to celebrate women and girls who are championing the advancement of transformative technology and digital education.
Focus:
What can be done to include Indigenous women in the data cycle in ways that are respectful of and honour their rights.
The practicalities of Indigenous communities taking back their land-related data. What steps need to be taken in order for this to happen and how can women play a key role.
How can land related data be collected in terms of cultural values, which women are often at the centre of.
How Indigenous Peoples can participate and be empowered in cadastral data governance.
Date/Time: Mar 30, 2023, at 08:00 PM (Bangkok time).
Register >>> Here.
 Land Portal Foundation