Vang Vieng Music Festival to be Rescheduled Amid Covid Fears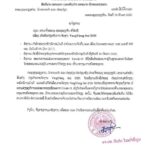 Authorities in Laos have issued a notice ordering the reschedule of the popular Vang Vieng Music Fest 2020 amid fears of a Covid-19 outbreak.
According to a notice issued by the Ministry of Information, Culture, and Tourism today, the Vang Vieng Music Fest 2020 will be rescheduled due to the risk of transmission of the Covid-19 coronavirus.
The event reschedule follows the recent cancellation of the Vientiane International Marathon and the Foton Vientiane Half Marathon.
 Phayboune Thanabouasy