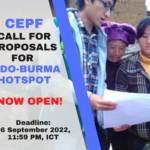 Description: The Critical Ecosystem Partnership Fund (CEPF) and the International Union for Conservation of Nature(IUCN) are currently accepting Letters of Inquiry (LoIs) from non-governmental organisations, community groups, Indigenous People's organisations, women's groups, private companies and other civil society organisations for projects that address the conservation of biodiversity in the Indo-Burma Hotspot, and meet the criteria set out in the call document.
Deadline of the submission: 11:59 PM (ICT) on 26 September 2022.
Grant size: small grants (up to US$40,000) and large grants (US$40,000 to US$200,000).
Eligible countries: Cambodia, China, Lao PDR, Myanmar, Thailand and Vietnam.
More information please visit >>> Here.