Socio-Economic Atlas of the Lao PDR 2015 Launched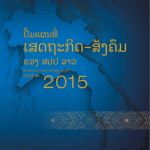 The brand-new Socio-Economic Atlas of the Lao PDR 2015 has been released.
This latest atlas, developed by the Centre for Development and Environment (CDE) of the University of Bern, together with the Lao Statistics Bureau (LSB), combines statistical data from the last two Population and Housing Censuses of 2005 and 2015.
Enhanced with detailed geographic information, the Atlas presents and makes available a wealth of socioeconomic information on a large set of highly detailed thematic maps, revealing both the status of 2015, as well as the observed dynamics over space and time within the decade-long inter-census period, at village-level and for the whole of the Lao PDR.
Get a PDF copy, Lao version, English version.