[Apply for grant] Mekong connection funding up to $25,000 for NGOs and community groups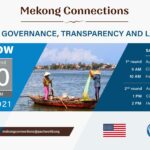 Mekong Connections team is inviting applications from NGOs or community groups working in Cambodia, Lao PDR, Myanmar, Thailand, or Viet Nam that would benefit from grants of up to $25,000.
The grant funding will support community work that focuses on any ONE of these areas:
– protecting water-related ecosystems;
– combating the illegal traffic in wildlife; and
– understanding better the connections between human, animal and ecosystem health (the 'One Health' approach to health security).
Please contact U.S. Embassy Vientiane for more details.
Any inquiries please join an online session at the following schedule:
25 August 2021 at 9 AM Indochina time
https://zoom.us/j/93204150402

30 August 2021 at 1 PM Indochina time
https://zoom.us/j/97149403755
Link to the SOURCE