Mineral processing and products
For the past few months, the nation has been hit by rising global oil prices and a weakening local currency, which have led to a steep rise in the price of fuel and widespread shortages. In April, petrol and diesel prices rose 72 percent and ...
 Sebastian Strangio

The Ministry of Industry and Commerce and the Lao Fuel and Gas Association are urging members of the public to be frugal in their use of fuel and not to travel unnecessarily, so that enough reserves of petrol are available for use for farming and ...
 Phetphoxay Sengpaseuth

Fuel businesses and importers are struggling to supply enough fuel to meet public demand due to fluctuating currency exchange rates and the volatile global oil market.Fuel shortages forced petrol stations in Vientiane and some provinces to close on Monday, with many of desperate motorists going ...
 Phetphoxay Sengpaseuth

There are 124 mining companies operating 209 projects including exploration and processing of minerals, with 14 companies now constructing new facilities. From 2021 to 2025, Laos is expected to produce mineral products valued at USD 7.832 billion, increasing by four percent from the previous five ...
 Latsamy Phonevilay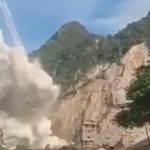 An explosion Saturday caused by rock blasting for a Chinese cement plant in northern Laos tore through a village, killing at least one person and injuring more than 20 others, residents said.Houses and vehicles were also wrecked by the blast in Phonemany village, Nam Bak district, ...
 RFA's Lao Service
https://www.rfa.org/english/news/laos/cement-blast-10062019112820.html